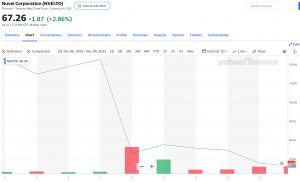 Nuvei Corporation Class Action (NVEI)
Quebec Superior Court file #:
On December 8, 2021, Spruce Point Capital Management LLC published a report concerning Nuvei Corporation (NVEI) titled "Fool me once, twice, but not three times" (the "Report"). The Report notably made the following allegations: "After conducting a forensic financial and accounting review, Spruce Point believes shares of Nuvei Corp. (TSX and Nasdaq: NVEI), a highly promoted payments processing technology company, has covered up a pattern of business failures, lack of organic growth, and a web of relationships with individuals connected to major Ponzi Schemes and alleged fraudulent activities… In addition, we believe Nuvei does business with the adult film industry, which could make its stock ownership unpalatable to ESG focused funds. Nuvei commands a premium valuation, but we believe it should trade at a discount to incorporate our documented concerns. We see 40%–60% downside risk".  By 10:20 a.m. on December 8, 2021, Nuvei's share price lost more than 50% of its value.
Accordingly, Nuvei may have issued materially misleading information to investors.
All persons and entities who acquired Nuvei Corporation securities between September 21, 2020 and December 7, 2021.
Remedies sought for consumers:
This class action is claiming civil and statutory damages pursuant the Securities Act.
Pending authorization hearing.